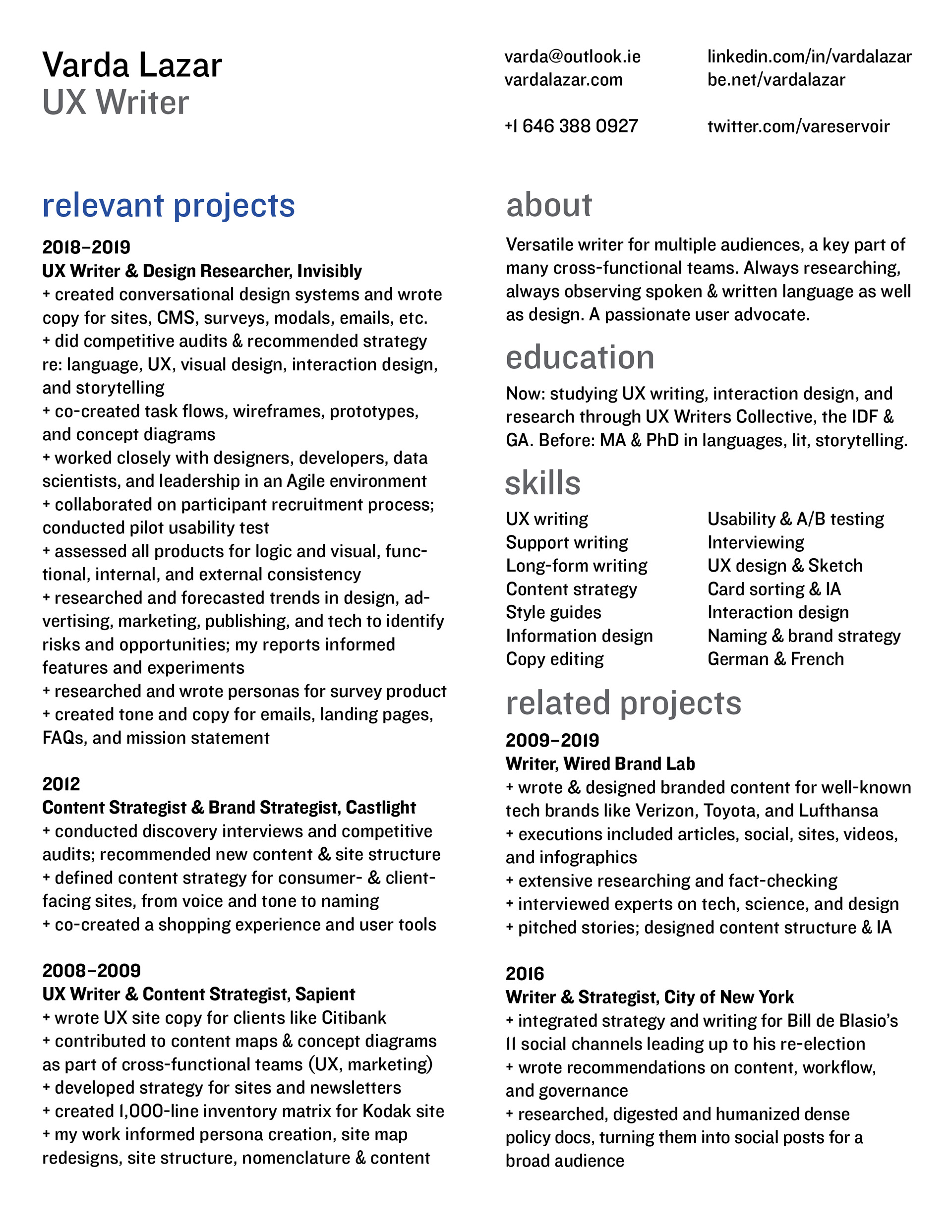 Varda Lazar
UX Writer
2018–2019 
UX Writer & Design Researcher, Invisibly
+ created conversational design systems and wrote copy for sites, CMS, surveys, modals, emails, etc. 
+ did competitive audits & recommended strategy re: language, UX, visual design, interaction design, and storytelling 
+ co-created task flows, wireframes, prototypes, and concept diagrams
+ worked closely with designers, developers, data scientists, and leadership in an Agile environment 
+ collaborated on participant recruitment process; conducted pilot usability test
+ assessed all products for logic and visual, functional, internal, and external consistency
+ researched and forecasted trends in design, advertising, marketing, publishing, and tech to identify
risks and opportunities; my reports informed
features and experiments
+ researched and wrote personas for survey product
+ created tone and copy for emails, landing pages, FAQs, and mission statement
2012
Content Strategist & Brand Strategist, Castlight
+ conducted discovery interviews and competitive audits; recommended new content & site structure
+ defined content strategy for consumer- & client-
facing sites, from voice and tone to naming
+ co-created a shopping experience and user tools
2008–2009 
UX Writer & Content Strategist, Sapient
+ wrote UX site copy for clients like Citibank
+ contributed to content maps & concept diagrams as part of cross-functional teams (UX, marketing)
+ developed strategy for sites and newsletters 
+ created 1,000-line inventory matrix for Kodak site 
+ my work informed persona creation, site map redesigns, site structure, nomenclature & content
about
Versatile writer for multiple audiences, a key part of many cross-functional teams. Always researching, always observing spoken & written language as well as design. A passionate user advocate.
education
Now: studying UX writing, interaction design, and  research through UX Writers Collective, the IDF & GA. Before: MA & PhD in languages, lit, storytelling.
skills
UX writing
Support writing
Long-form writing
Content strategy
Style guides
Information design
Copy editing
Usability & A/B testing
Interviewing
UX design & Sketch
Card sorting & IA
Interaction design
Naming & brand strategy
German & French
related projects
2009–2019 
Writer, Wired Brand Lab
+ wrote branded content for well-known tech brands like Verizon, Toyota, Lufthansa, and Dell
+ executions included articles, social, sites, videos, and infographics
+ extensive researching and fact-checking
+ interviewing experts on tech, science, and design
+ pitching stories; designing content structure & IA 
2016 
Writer & Strategist, City of New York
+ integrated strategy and writing for Bill de Blasio's
11 social channels leading up to his re-election
+ wrote recommendations on content, workflow,
and governance
+ researched, digested and humanized dense
policy docs, turning them into social posts for a broad audience