V.'s teams created this 2019 survey-related site as well as modals, emails, solicitation emails, and ad and marketing copy. (Top tasks for users on survey sites are earning rewards and compensation.)
Early on, V. researched and forecasted trends in design, advertising, marketing, publishing, and the unfolding political topics of privacy and data to identify risks and opportunities, then captured insights in short documents.
As sole user researcher, V. also studied surveys, ad-blocking, advertising, cash-for-browsing sites ("GPT sites"), and users' comments on sites like Reddit. 
She did a competitive analysis of survey sites' language, visual design, and value propositions, then shared insights. User pain points include 
     › scams
     › not knowing how their data will be used
     › not knowing how much time and energy tasks require
     › not being told details of compensation
She then wrote personas and went on to write recommendations about language and storytelling as well as overall strategy, UX, and visual design.
V. worked on close-knit teams with designers, engineers, and executives in an Agile startup environment, contributing to user flows, concept diagrams, and prototypes, and translating requirement docs into features.
V. was the sole user advocate for this project. She argued for the integration of human experience into development-focused workflows. She shared users' concerns with all relevant teams. She also advocated for the user-readers of every element, even for the bloggers receiving a solicitation (which she also wrote) to cover the product in a blog. For each persona she had written, she wrote multiple versions of landing-page copy . 
She wrote and presented marketing rationales for each proposed approach to copy and strategy, emphasizing what value propositions and aspects of the brand each would articulate. She proposed and wrote language that helped her teams frame the product in a way that was sensitive to the climate and the competitive space.
Style, voice, tone, and language V. suggested are used throughout, from the landing page to the ad copy, including the FAQ page, terms and conditions, and the privacy policy. She also collaborated on the participant recruitment process.↓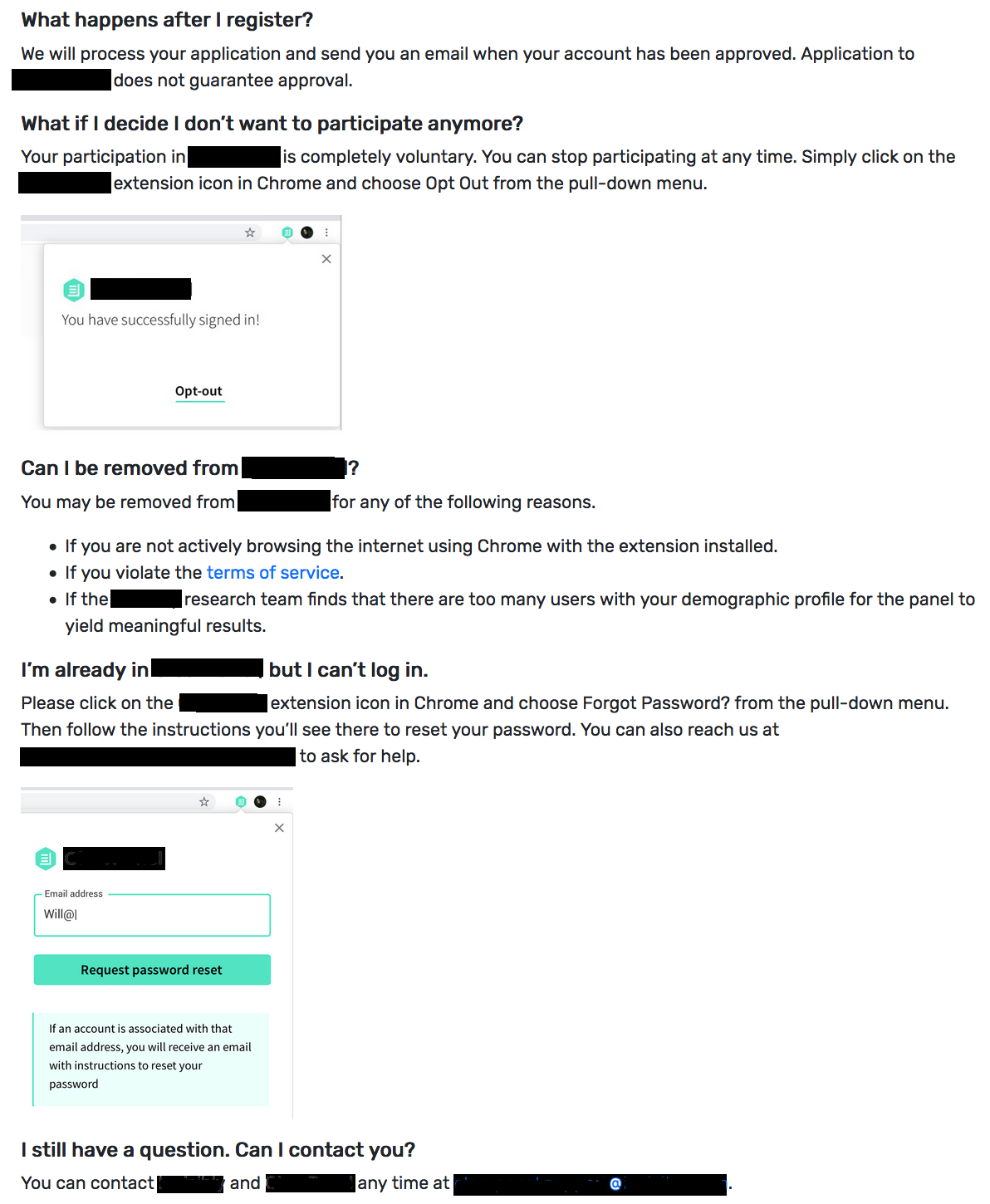 She advocated for clarity and made specific adjustments to content strategy and copy so that the onboarding addressed user pain points. ↓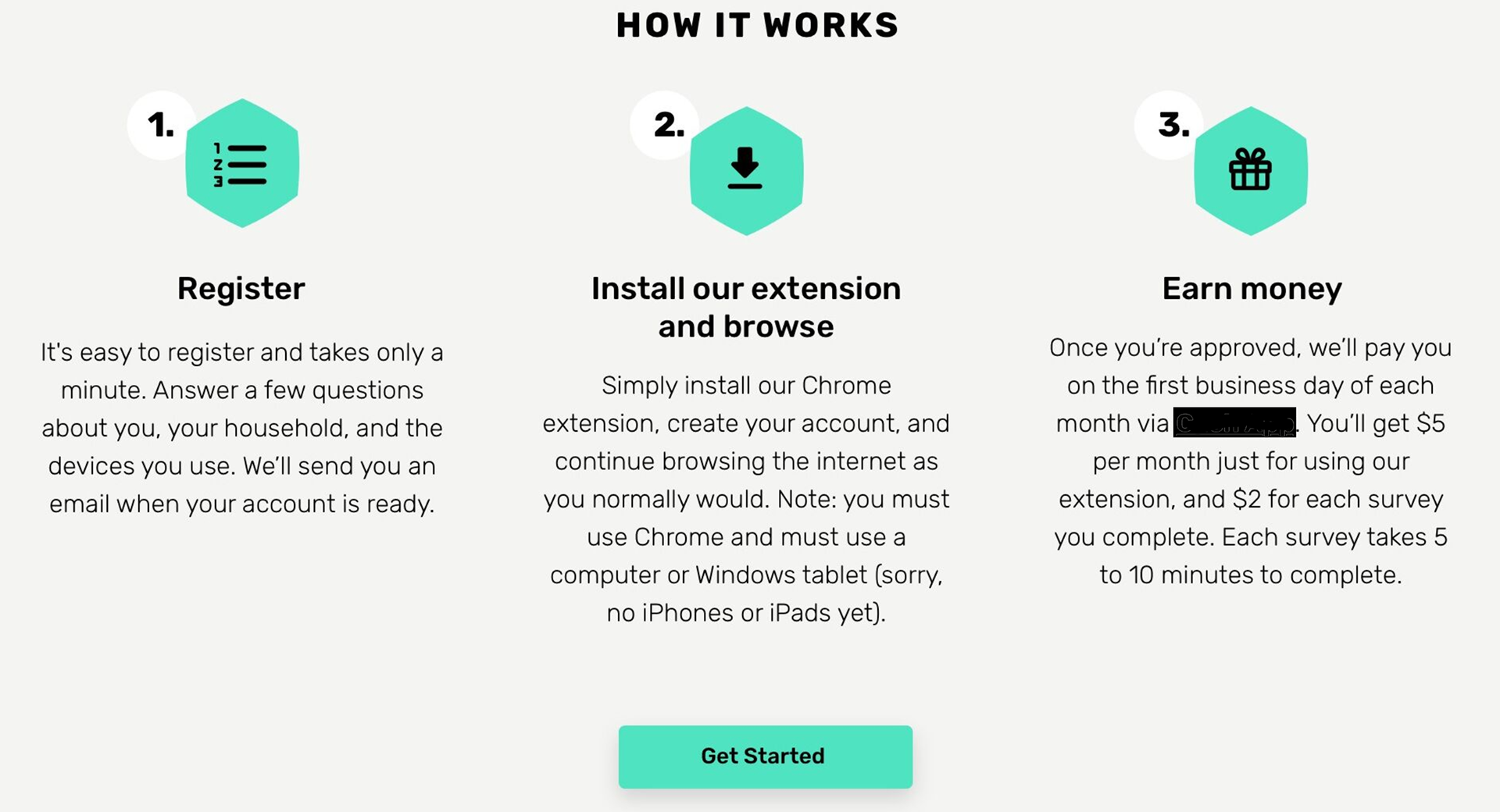 Specific results of her user advocacy: 
     › Compensation was described as being offered on a monthly basis.
     › Users were told exactly what they would be paid for, when they would get paid, and what form that payment would take.
     › Users were told the type of survey they should expect to see.
     › The company's name and intentions were stated with a link to the main site. 
     › A company email address was included.
     › The application process was clarified.
     › The time required by user tasks was stated clearly.
     › Users were told what to expect (e.g., at what points they would receive an email)
     › Users were told how their data was going to be used (e.g., anonymized, aggregated). 
V. also determined and maintained brand personality in all customer-facing copy and made sure that the company state its concerns with transparency, privacy, and surveillance; that it refer to the composition of its own teams; that it state it valued the user's time and attention; and that it refer openly to the testing itself in plain language. ↓

As sole fact-checker, V. flagged content that would damage the brand and invite ridicule or at least scrutiny from the media. She flagged and removed content and copy that she thought would mislead users or that made false promises to them. She also collaborated on naming.
She assessed multiple iterations (including all legal copy), revising the structure to be more logical, as well as ensuring visual, functional, internal, and external consistency. 

V.'s insights helped inform testing of different UIs. Downloads of the associated extension increased steadily after her contributions.
Miro, G Suite, Dropbox Paper, Jira, Atlassian